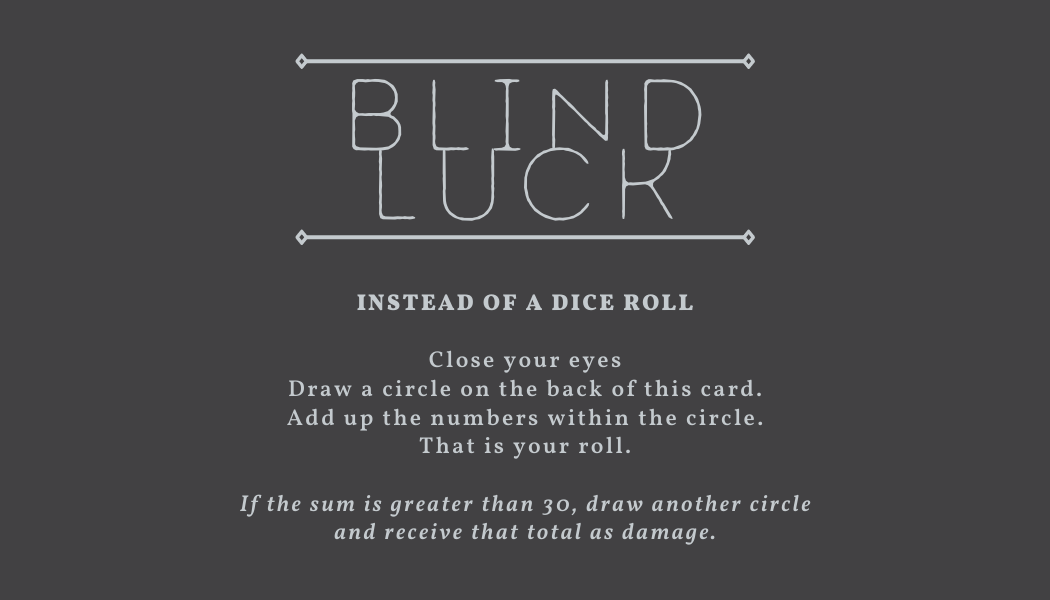 Blind Luck - Business Card
Blind Luck - The Last Engineer.
Coming Friday
So many of you have reached out to tell us how much you love Blind Luck, our dice alternative made for the Pleasure-Not-Business Card RPG Jam. Well, we thought it was a good idea too, so we've been hard at work working on a brand new solo-RPG, which uses the Blind Luck system in an exciting and thematic way.
Introducing, Blind Luck - The Last Engineer.
Read more about it on our itch.io page:
https://longgames.itch.io/blind-luck-the-last-engineer
About
It's been six months since they arrived: strange insectoid creatures known as Scuttlers. No one knows where they came from or why they're here. Little is known about them except that they hate the light and they love to kill.
After they arrived, the skies blackened. A dense cloud blocked out the sun, making day no different from night. Plants and animals are dying. Human's are the Scuttlers' favourite prey.
The town's Power Station was one of the first things the Scuttlers destroyed. They took your heating, your power, and your light. Last night, the last of the generator's packed up. You're now alone in the dark.
You are the last engineer: the only person capable of turning the power back on. If you can restore power at the Power Station you can flood the town with light and scare away the Scuttlers. But, since it has been destroyed, you need to track down the parts required to repair it.
It's time to leave your sanctuary and head out into the darkness...
...into their domain.
Get Blind Luck - Business Card