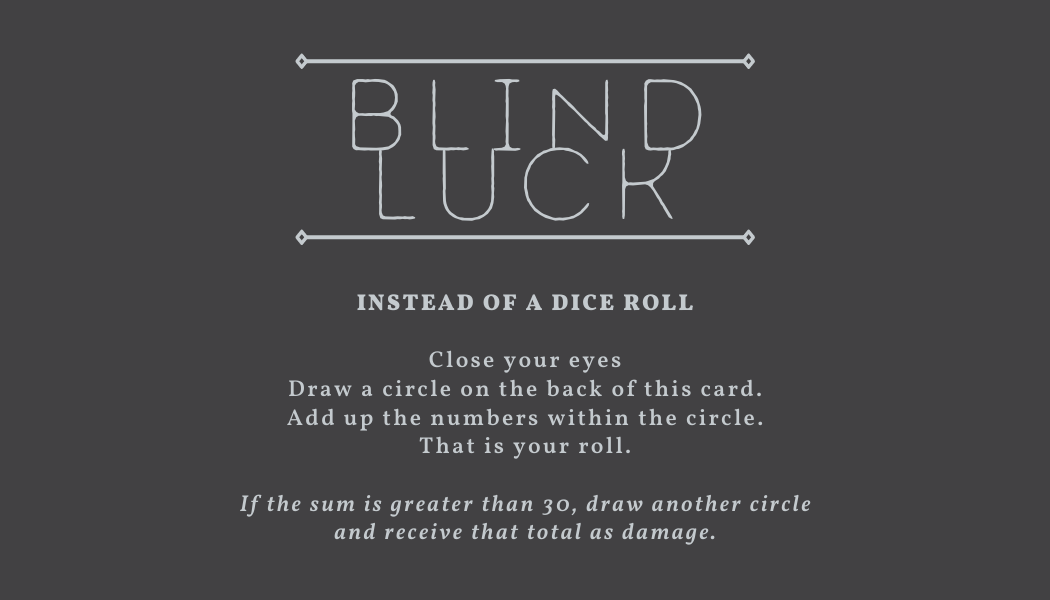 Blind Luck - Business Card
Blind Luck
Blind Luck is a unique alternative to dice rolling. Simply close your eyes and draw a circle on the back of the card. Add up the numbers which are completely within the circle and use the total as your result instead of a die roll.
But be careful! If the sum of the numbers is greater than 30, you'll receive damage.

You could use Blind Luck to completely replace dice in a game, or you could use it for specific occasions, like saving throws or when you cast a specific spell, or your game master might make you use Blind Luck if it's too dark for your character to see. How you incorporate it into your games is up to you!
Blind Luck was created for the Pleasure-Not-Business Card RPG Jam.
About
Pages: 2 (A double-sided business card).
Designer: William Long www.longgames.co.uk
Social: Join us on Instagram.
Download
Click download now to get access to the following files:
Comments
Log in with itch.io to leave a comment.
This is a great idea. It also inspired me to think of a way to use this to perform a magic/mentalism trick.
That's a great idea! How do you think you'd do it?
Without getting into exposure, it would work for prediction effects, one-ahead types of tricks, magic squares, book tests, etc. My initial thoughts were for prediction effects or potentially as a book test (either keeping the numbers to have a page selected, or replacing the numbers with words).
Oooooh. This is so nice! I think it goes specially well with games in this same jam, with some tweaks.
Picture this: a dungeon crawler, but with Blind Luck as its main rolling, stamina AND trouble mechanic. The sum is your "roll", but also if you circle a number that has been circled before that is your "trouble roll" and if you're out of numbers to circle, you're too exhausted to keep delving.
I love that idea! I was playing with the idea of triggering something when circles overlap, so I'm glad that you've had the same idea.
this is super interesting! my gm-brain is already bubbling with ideas for how this could be used
Let us know how you use it! I think are a lot of ways you could incorporate it thematically!