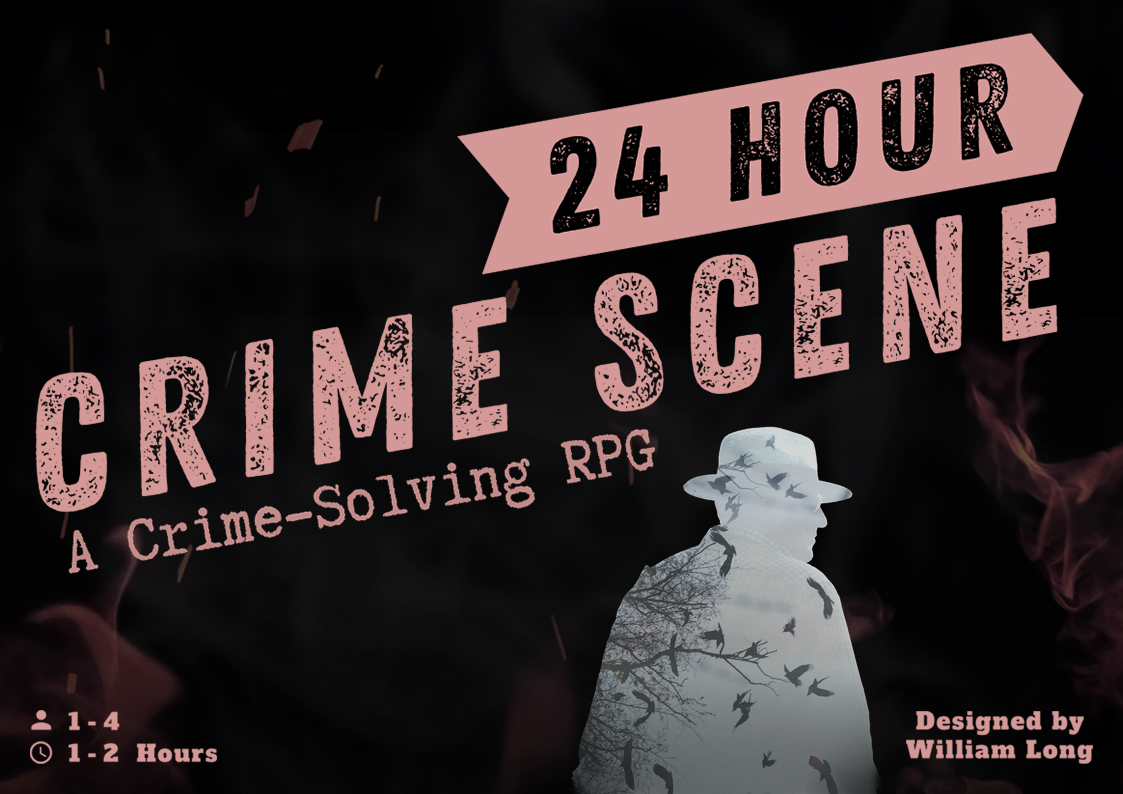 24 Hour Crime Scene
24 Hour Crime Scene
A Crime-Solving RPG
After a vicious murder has been committed, you and your colleagues are the detectives tasked with solving the case, but you only have 24 hours at the crime scene to connect the clues, interview the suspects, and uncover the truth of what happened.
Overview
24 Hour Crime Scene is a role-playing game for one to four players where each player assumes the role of a detective investigating the crime scene of a murder.
Over the course of the game you will discover more about the crime scene, discover clues, collect evidence, find suspects and interview them.
As a player, it is up to you to invent the clues and information that you discover. For instance, when you discover a clue, you decide what that clue is, and then draw it onto the crime scene, anywhere you'd like. It will then be up to you and the other detectives to connect all of the clues and evidence later to tell the unique story of the victim's murder.
By the end of the game you will have gathered enough evidence to charge one of the suspects with the murder.
Turn Order
On your turn you will do the following:
1. Draw a card, read the related prompt, and then resolve it.
2. You will also take an additional action where you can add a clue to the crime scene, turn a clue into evidence, interview a suspect or even consult with the other detectives.
Variants
Included with the game are two alternative game modes:
Serial Killer Mode: A campaign-style mode with a single killer and three victims that plays over a series of games.
Solo Mode: A solo version of the game that plays almost identically to multiplayer mode.
48 Hour Crime Scene
Check out the stand-alone expansion for 24 Hour Crime Scene, 48 Hour Crime Scene : Digital Forensics. The expansion introduces 48 new prompts, a new location to investigate (the victim's computer), and rules for creating your own game variants by mixing up the decks!
To make it simple, you can simply add the expansion to your order or you can order both games HERE.

Travel Edition
If you enjoy playing on the go you can also add the 24 Hour Crime Scene - Travel Edition to your order.
24 Hour Crime Scene - Travel Edition is a fun, story-telling game for two to five players. It's ideal for long car rides, train journeys, and sitting around campfires. It is a stripped-back version of the full game.
24 Hour Crime Scene - Travel Edition comes as both a .pdf file and .png files so that you can save it on your phone in either a book app or your photo library. You'll receive both so how you use it is up to you!

About
Player Count: 1 to 4
Game Length: 1 to 2 hours
Pages: 20

Additional Materials: You will need, pens or pencils, paper, and a standard deck of playing cards.
Designer: William Long www.longgames.co.uk
Social: Join us on Instagram.

Purchase
In order to download this game you must purchase it at or above the minimum price of $8.60 USD. You will get access to the following files:
24 Hour Crime Scene
17 MB
24 Hour Crime Scene - Travel Edition
17 MB
if you pay $11.18 USD or more
48 Hour Crime Scene.pdf
25 MB
if you pay $15.48 USD or more
Exclusive content
Support this game at or above a special price point to receive something exclusive.
Community Copy Donation
For $15 you'll receive a copy of 24 Hour Crime Scene and donate a copy of the game for those who are experiencing poverty or have marginalised access to the games community to claim. Thank you!
Community Copy
For those who are experiencing poverty or marginalised access to the games community, select this to claim a free Community Copy of 24 Hour Crime Scene that was purchased by another customer. If you do claim a free community copy, please consider leaving us a review.
Comments
Log in with itch.io to leave a comment.
I would love to get a community copy… this is my dream rpg game!
any chance of some more community copies id love to review this game on my vlog
I would really like to try the game but I cannot afford to buy it right now.
Any generous peeps/Long Games who would put some Community copies back in stock?
Hi Stan, More Community Copies have been added, so you should be able to get one!
Really liking the game! I got the spanish version by El Refugio de Ryhope. Are you aware of any hacks based on your game? I think it has quite a lot of potential for hacks!
Thanks very much! I'm glad you're enjoying it. The edition from El Refugio de Ryhope is fantastic! I don't know of any hacks for it, but if you have any suggestions I'd love to hear them!
Some I can think of:
Archeological excavation: try to find out how people lived (maybe worldbuilding?) or a historicla event. Maybe suspect interrogation could be reading books/diaries?
Geopolitics: events that lead to a war. Finding out clues in history books and newspapers.
Clairvoyance: predict something that could happen in the future by looking at clues in the present. Maybe trying to stop a crime or some other disgrace.
GOD this looks cool!! i wish i had the money to get it right now but as soon as i do and play a session or two, ill be making my review of it!
We think it's a really good game! We often have Black Friday and Christmas sales so keep an eye out for those!