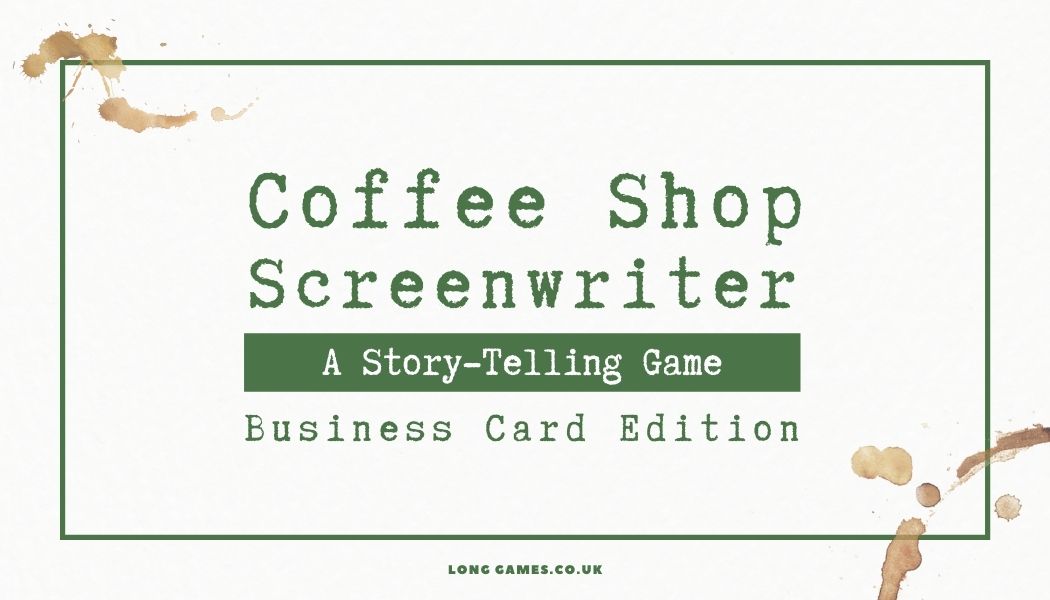 Coffee Shop Screenwriter - Business Card Edition
Coffee Shop Screenwriter
BUSINESS CARD EDITION
Coffee Shop Screenwriter - Business Card Edition is a story-telling role-playing game for one or more players. Each player takes the role of the screenwriter as they're frantically trying to write an original screenplay. It was created for the Pleasure-Not-Business Card RPG Jam.
The whole game fits on a single business card.
It is a stripped-back version of Coffee Shop Screenwriter, which is available HERE.
About
Player Count: 1 or more
Game Length: Until you finish your cup of coffee.
Pages: 2 (A double-sided business card).
Designer: William Long www.longgames.co.uk
Social: Join us on Instagram.
Reviews For The Full Game
"Many moments made me laugh aloud… If you've ever wanted to write a script, this is your shot at the big time."
Australian Tabletop Gaming Network
"Coffee Shop Screenwriter is an interesting and innovative game. It's playing with metanarrative in a way that few other games do."
Nerdz Garage
"[We wrote a] wonderful screenplay!"
Logan Chops Reviews
Check out the play through by Logan Chop Reviews:
Download
Click download now to get access to the following files:
CoffeeShopScreenwriter_BusinessCardEdition.pdf
230 kB