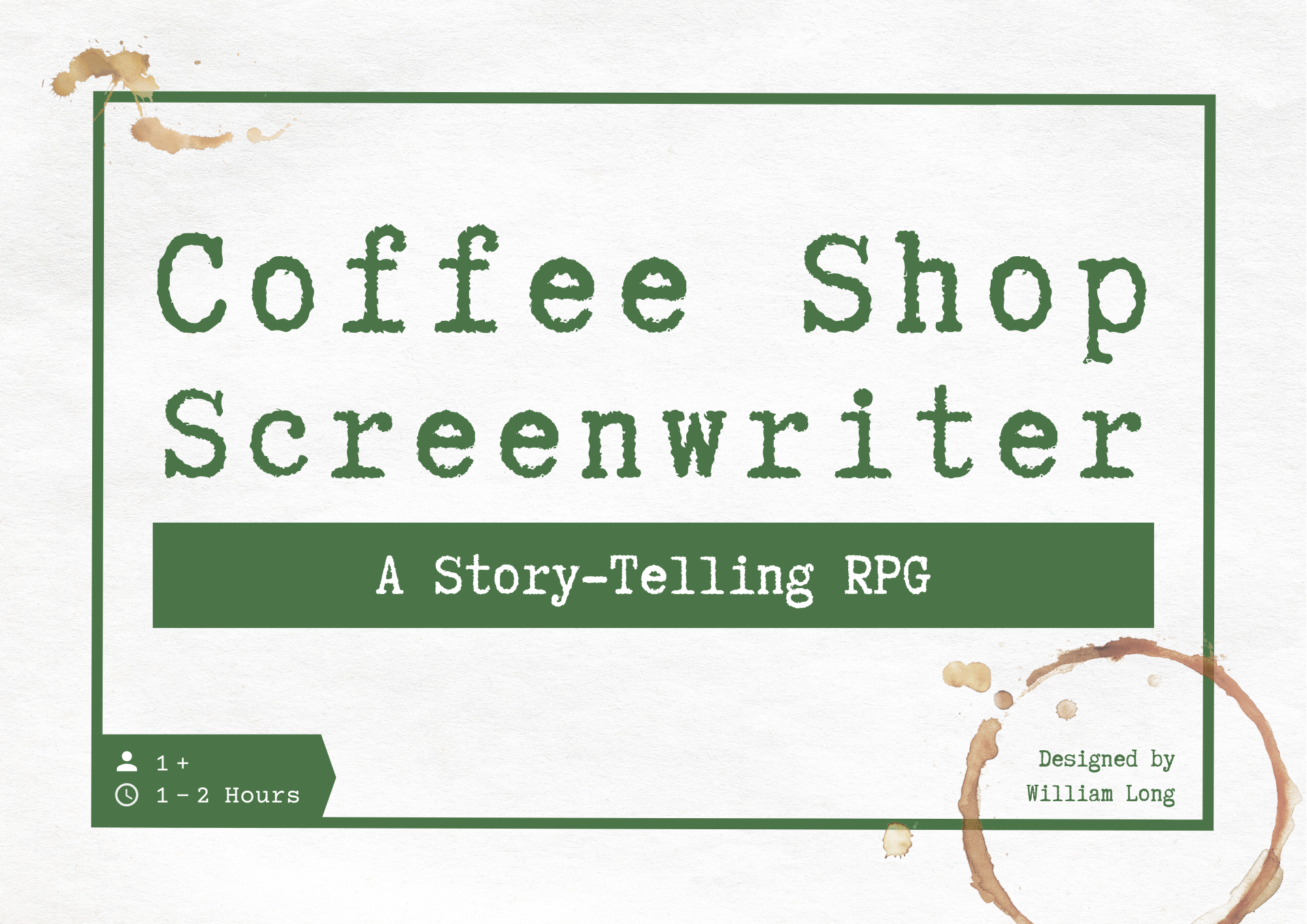 Coffee Shop Screenwriter
Coffee Shop Screenwriter
SCREENWRITING GAMIFIED
Coffee Shop Screenwriter is a story-telling role-playing game for one or more players. Each player takes the role of the screenwriter as they're frantically trying to write an original screenplay whilst sitting in a coffee shop.
By the end of the game you will have come up with an idea for a screenplay, whilst also developing the character of your screenwriter and discovering more about the coffee shop you're writing from.
Coffee Shop Screenwriter is a great group game but can also be played solo. An average game will last between one and two hours.
The Screenplay Beats your character is following are also used by professional Hollywood screenwriters, so if you are feeling really adventurous you could use this game to actually write a feature-length screenplay.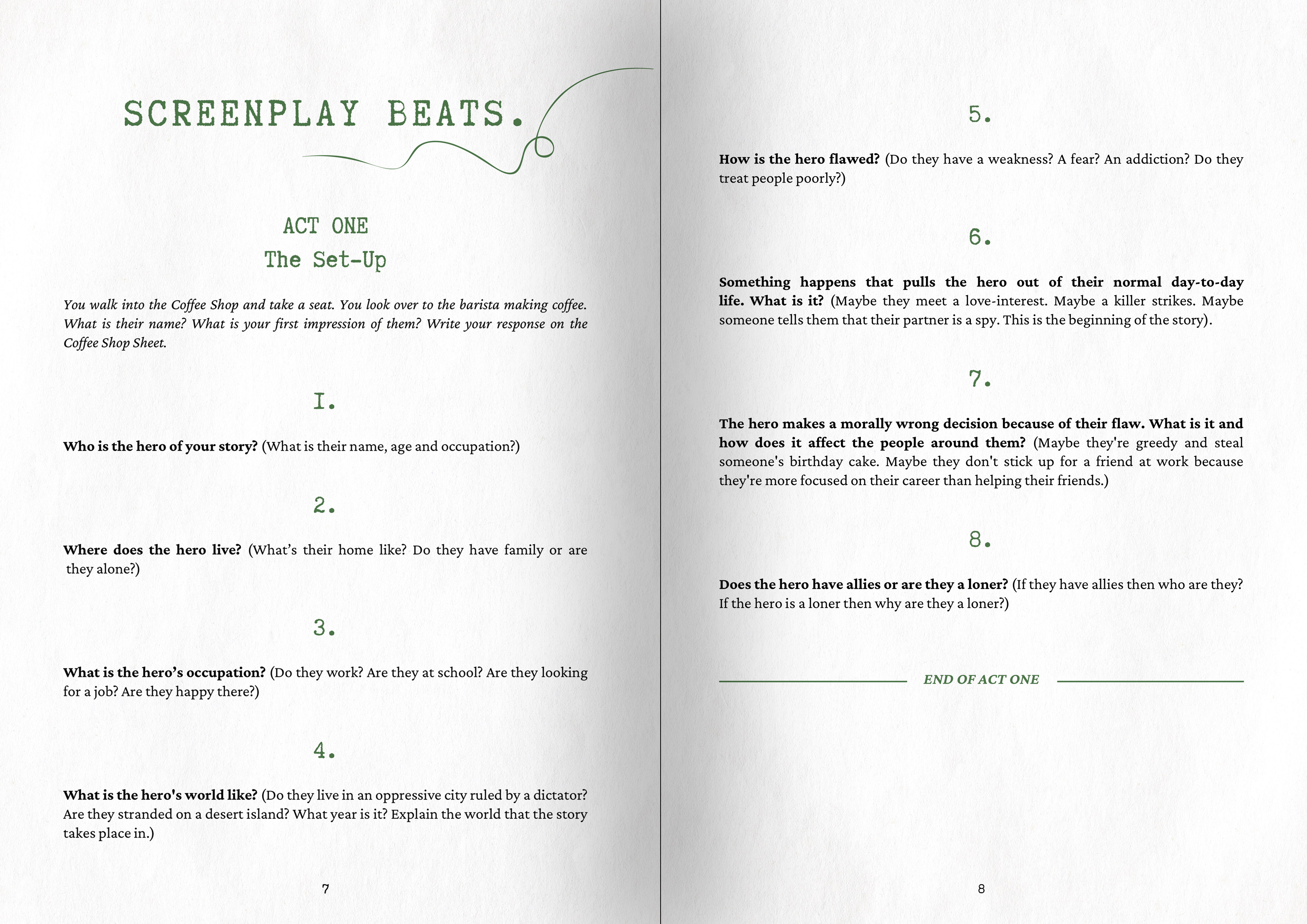 Overview
You are an unsuccessful screenwriter who needs to send your latest screenplay to your agent by the end of the day. Unfortunately you haven't written it yet and you didn't sleep last night so, in a desperate final attempt, you go to your favourite coffee shop to write, in the hope that caffeine will make you more creative.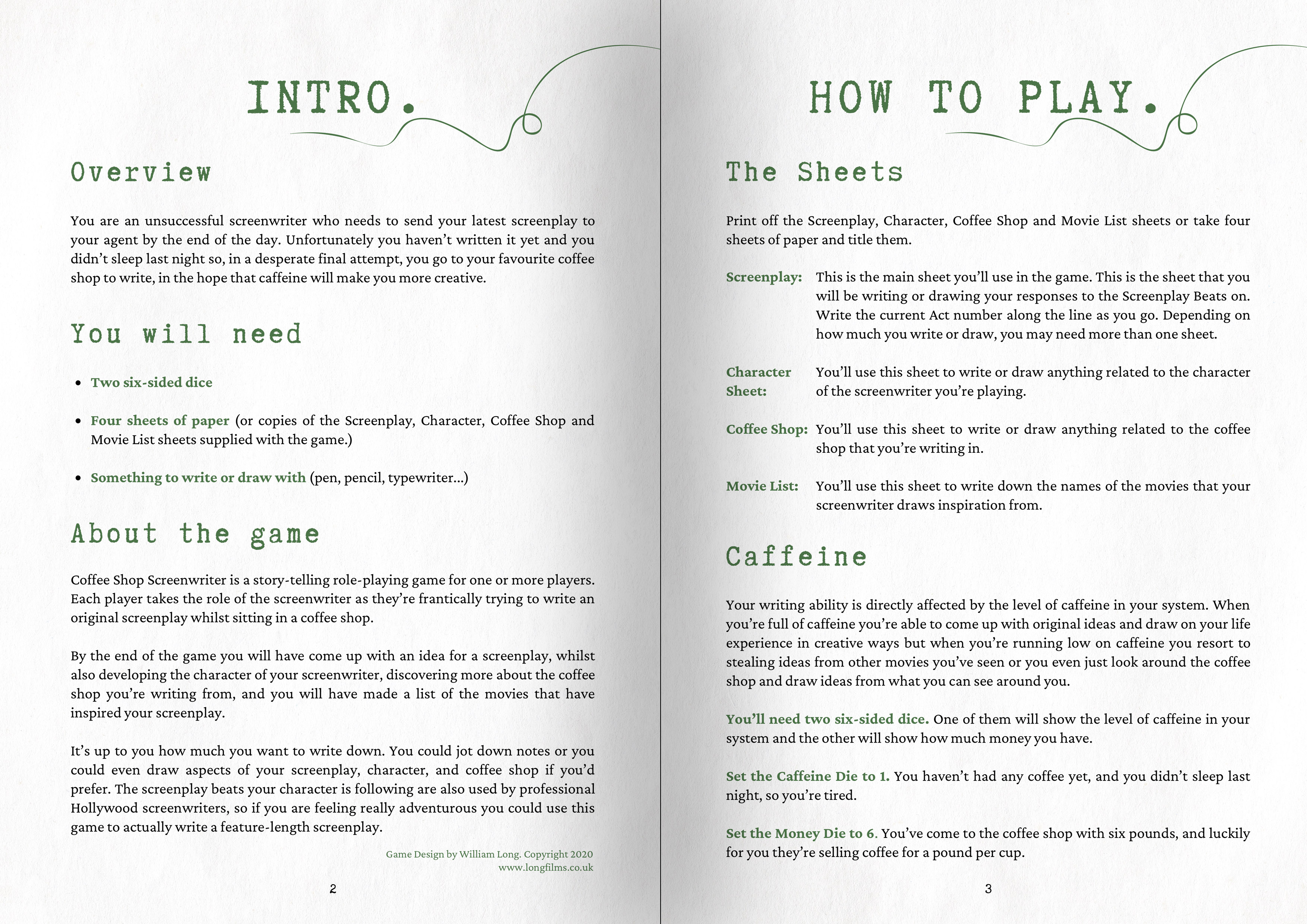 Caffeine
Your writing ability is directly affected by the level of caffeine in your system. When you're full of caffeine you're able to come up with original ideas and draw on your life experience in creative ways but when you're running low on caffeine you resort to stealing ideas from other movies you've seen or you even just look around the coffee shop and draw ideas from what you can see around you.
You'll use one die to keep track of how much money you have and one die to keep track of your Caffeine Level. Your Caffeine Level goes down each turn but you're also able to buy coffee to increase your Caffeine Level.
The number on the caffeine die affects where you can draw inspiration from: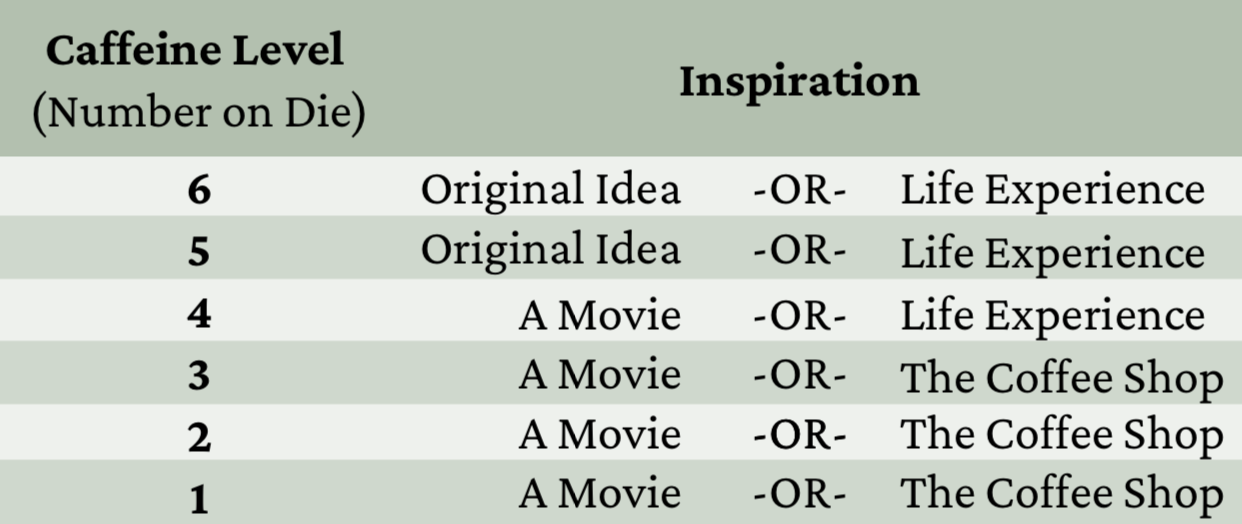 Original Idea:
You're on top of your game and can literally come up with anything you put your mind to. Draw a little lightning bolt next to your original idea on the Screenplay sheet to remind you of the time that you were struck by a bolt of true inspiration. You're a genius!
Life Experience:
You use an element of your real life as a source of inspiration. It can be something from your current life, a past experience (maybe something that happened last night), or a hope for the future. Add the real life experience to your Character Sheet. You're a sensitive poet.
A Movie:
You take another movie as inspiration and change it just a little bit so that your agent won't recognise it. Add the title of the movie to your Movie List. If it's more similar to one of the movies your screenwriter loves draw a heart next to it. If it's more similar to one of the movies your screenwriter hates draw an X next to it. You could also use a movie that's already on the list as inspiration, if you do then draw a heart next to it. This serves as a reminder of your influences at the end of the game. You're a hack.
The Coffee Shop
You're tired as can be and can only muster up enough energy to look around you. What or who do you see in the coffee shop? Maybe it's a couple having a conversation. Maybe it's art on the wall. Maybe it's a dog quietly peeing in the corner. Maybe it's something you see happening outside the window. Use what you see as your inspiration and then write or draw it on the Coffee Shop Sheet. If you're using something that's already there as inspiration then draw a heart next to it to show that it's been used more than once. You're too tired and need more coffee.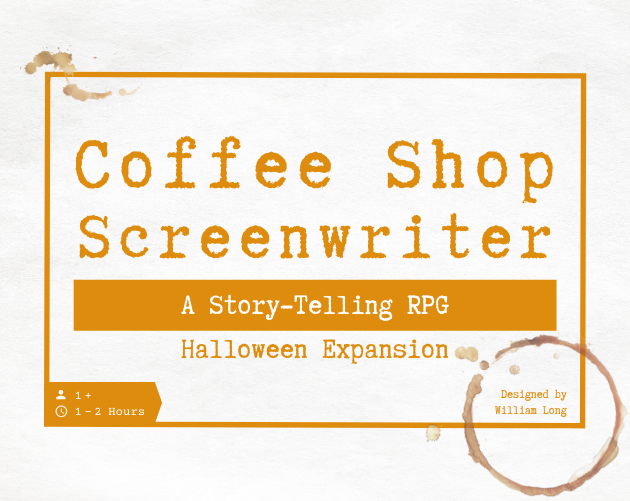 Halloween Expansion
Coffee Shop Screenwriter - Halloween Expansion offers all new story-beats and prompts, geared towards writing a spooky horror movie! Whether you want to write a violent gore-fest or a fun kid's Halloween flick, this is the expansion for you! And, just like Coffee Shop Screenwriter, you could use these Halloween story-beats to write your very own feature-length horror screenplay!
You can add it to your order, or you can purchase it separately.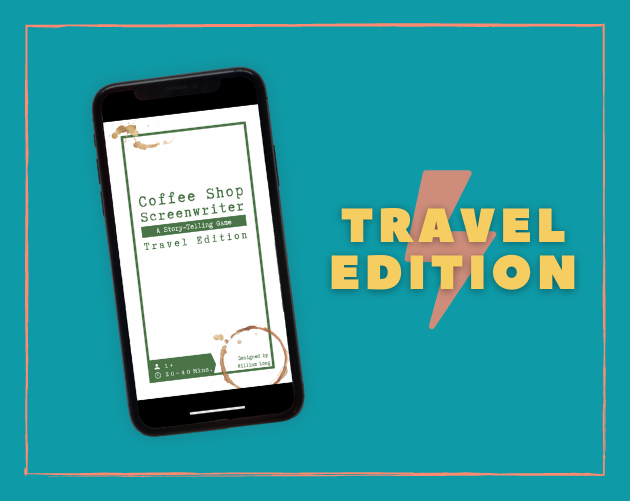 Travel Edition
If you enjoy playing on the go you can also add the Coffee Shop Screenwriter - Travel Edition to your order.
Coffee Shop Screenwriter - Travel Edition is a fun, story-telling game for one or more players. It's ideal for long car rides, train journeys, and sitting around campfires. It is a stripped-back version of the full game.

Coffee Shop Screenwriter - Travel Edition comes as both a .pdf file and .png files so that you can save it on your phone in either a book app or your photo library. You'll receive both so how you use it is up to you!

Ambience
To make your gameplay more immersive you can also add to your order an hour of coffee shop ambience to listen to whilst playing.
Alternatively, you could play the game in an actual coffee shop.
About
Player Count: 1 or more
Game Length: 1 to 2 hours
Pages: 23 (5 pages of easy-to-read instructions)
Additional Materials: You will need two six-sided dice and a pen or pencil
Designer: William Long www.longgames.co.uk
Social: Join us on Instagram.
Reviews
"Many moments made me laugh aloud… If you've ever wanted to write a script, this is your shot at the big time."
Australian Tabletop Gaming Network
"Coffee Shop Screenwriter is an interesting and innovative game. It's playing with metanarrative in a way that few other games do."
Nerdz Garage
"[We wrote a] wonderful screenplay!"
Logan Chops Reviews
Check out the play through by Logan Chop Reviews:
The Con Save
Check out the play through by The Con Save:

Purchase
In order to download this game you must purchase it at or above the minimum price of $9 USD. You will get access to the following files:
Coffee Shop Screenwriter - Game
2 MB
Coffee Shop Screenwriter - Ambient Sounds
54 MB
if you pay $9.90 USD or more
Coffee Shop Screenwriter - Travel Edition
5 MB
if you pay $11.70 USD or more
Coffee Shop Screenwriter - Halloween Expansion.pdf
1 MB
if you pay $13.50 USD or more
Exclusive content
Support this game at or above a special price point to receive something exclusive.
Community Copy Donation
For $15 you'll get a copy of Coffee Shop Screenwriter (and the ambient track) and donate a copy of the game for those who are experiencing poverty or marginalised access to the games community to claim. Thank you!
Community Copy
For those who are experiencing poverty or marginalised access to the games community, select this to claim a free Community Copy of Coffee Shop Screenwriter that was purchased by another customer. If you do claim a free community copy, please consider leaving us a review.
Comments
Log in with itch.io to leave a comment.
The number has been the same for months not even a new copy. I wouldn't comment if the number changed and someone else got the copies. But the number has not changed.
I am confused.
We had some over Christmas. Once they come they are claimed very quickly. The number has been updated to show that. Feel free to share our games online and maybe one of your friends will donate a Community Copy. The more people who know about the game, the more CC's there will be.
Thanks for your interest in our game.
I posted on Reddit about it. (I wanna help you guys grow because from my experience in KillSlash you guys make amazing games that are kick ass)
Thank you for your support! We're really proud of Killslash!
Why are their no community copies? I genuinely thought their would be at least 1 in a span of more than 1 month
Hello and thanks for your interest in Coffee Shop Screenwriter. The community copies are donated by those who purchase the game. Although not everyone donates a community copy they do appear fairly often. So keep checking back!
I have waited and still no copies. I will persevere though so I can give a review of this amazing looking game
New Community Copies have been added! Get one quick!