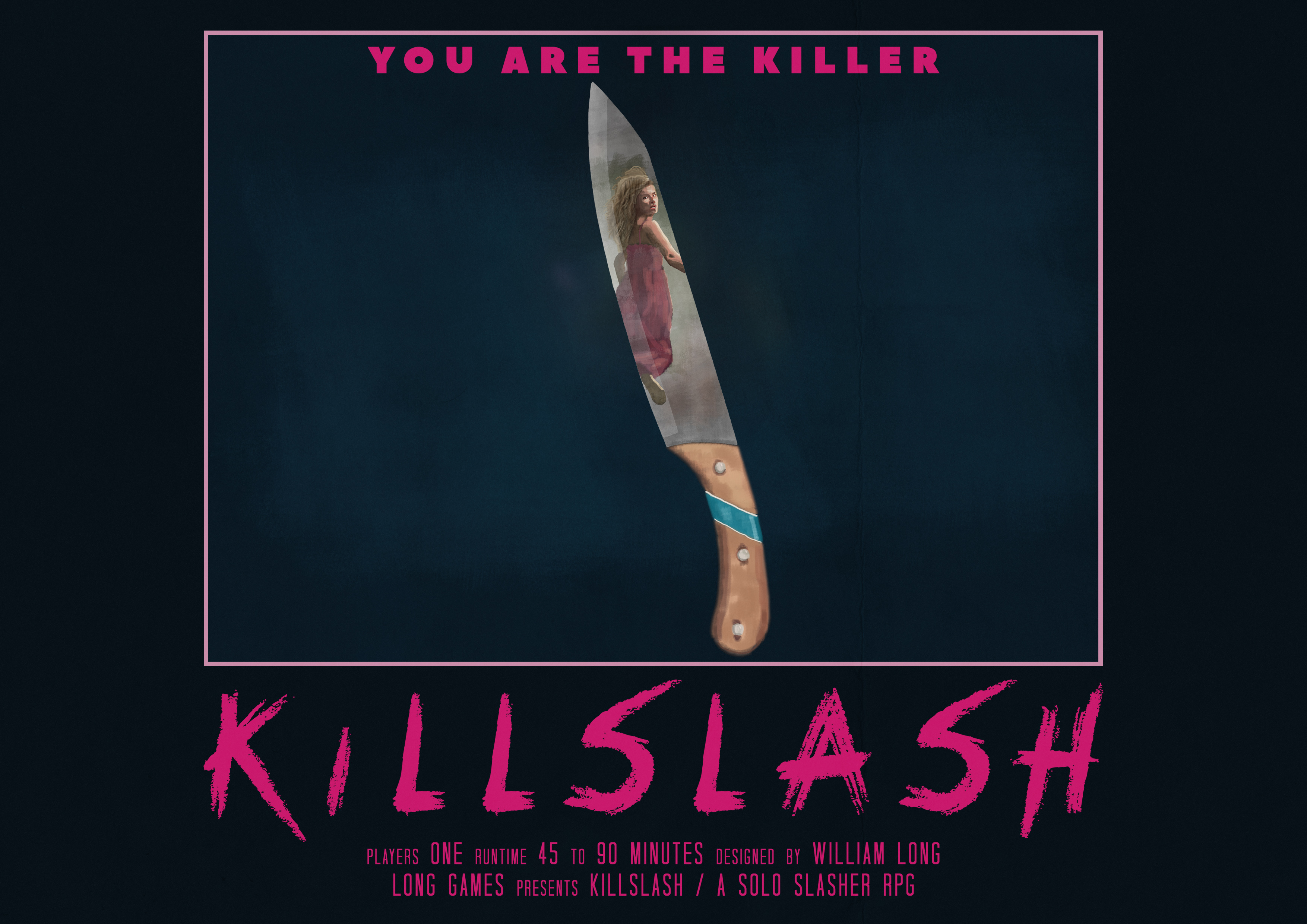 Killslash
Killslash
A Solo-Slasher RPG
You are the legendary killer in a slasher movie - the true hero of the story. Your next victims are unaware that you're silently watching their every move, waiting for them to make the same mistakes that horror-movie victims always make.
Overview
Killslash is a single-player journaling game where you are the killer in a slasher movie. As you hunt and attack four people you write about your experience and learn more about yourself and your victims.

During the game you will choose your victims, answer questions about them, roll dice to attack them, and then roll dice to see how they react. You'll then describe what happens in as much detail gory detail as you'd like.
Will you become the next slasher icon or will your victims outsmart you?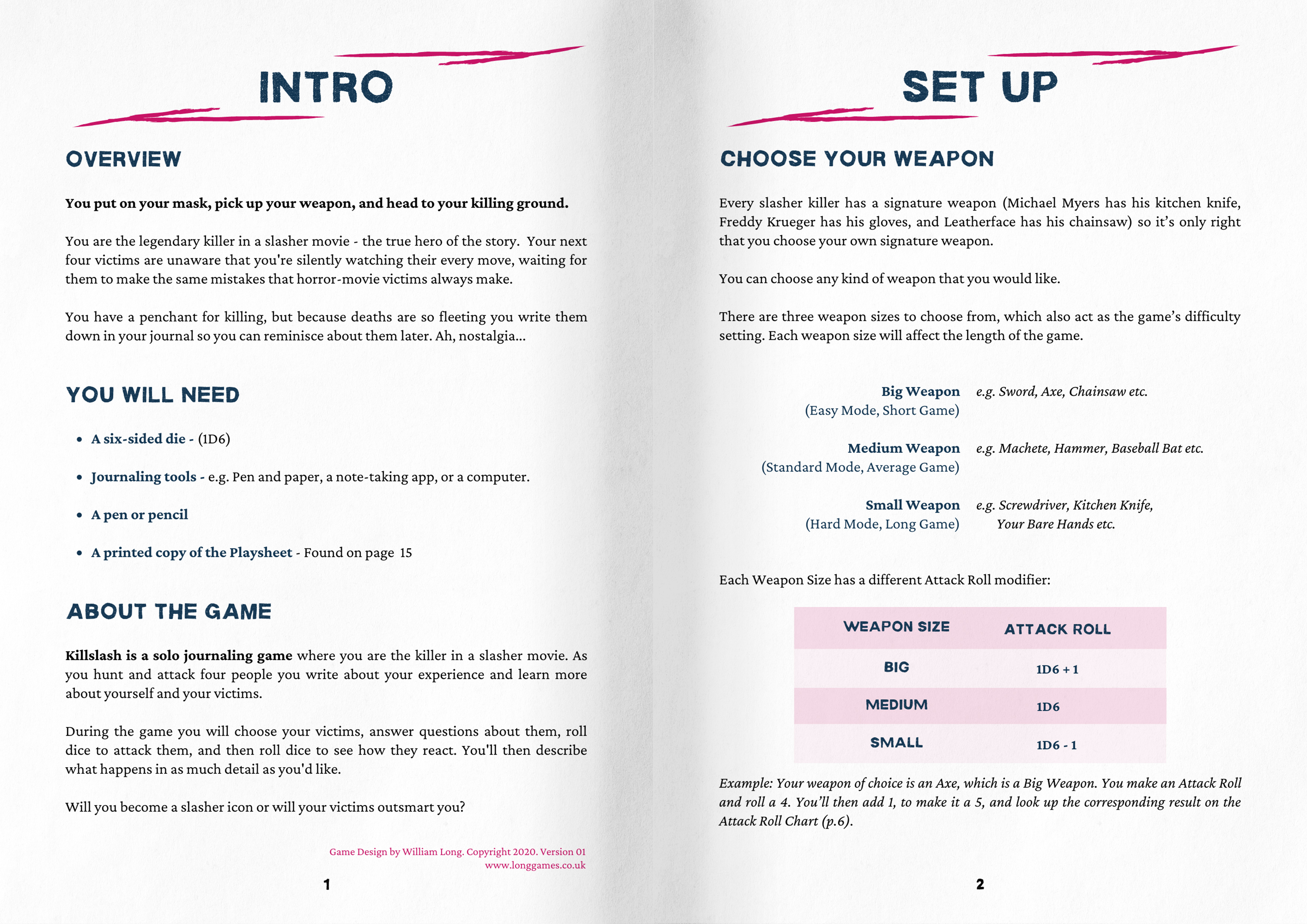 Turn Order
On your turn you will:
1. Choose a Victim to attack and answer a question about them.
2. Describe how and where you find that Victim.
3. Roll a six-sided die to attack the Victim and describe what happens.
4. If they are still alive, roll to see how the Victim reacts, and if they attack you.
5. Answer a question about your Killer.
Ambience
To make your gameplay more immersive you can also add to your order an hour of thematic, ambient music to listen to whilst playing.

About
Player Count: 1
Game Length: 45 - 90 minutes
Pages: 19
Additional Materials: You will need a pen or pencil, something to write on, and a six-sided die (1D6).
Designer: William Long www.longgames.co.uk
Social: Join us on Instagram.
Playthrough
Board Game Time-Lapses has done a fantastic partial playthrough of Killslash.
Watch the playthrough HERE.
Reviews
"Intense." "A fun experience."
Read the full review HERE.
Vasilij - victoryconditions.com
Purchase
In order to download this game you must purchase it at or above the minimum price of $8.60 USD. You will get access to the following files:
Killslash_Ambience.mp3
54 MB
if you pay $9.46 USD or more
Exclusive content
Support this game at or above a special price point to receive something exclusive.
Community Copy Donation
For $15 you'll receive a copy of Killslash, the Killslash ambient music, and donate a copy of the game for those who are experiencing poverty or have marginalised access to the games community to claim. Thank you!
Community Copy
For those who are experiencing poverty or marginalised access to the games community, select this to claim a free Community Copy of Killslash that was purchased by another customer. If you do claim a free community copy, please consider leaving us a review.
Comments
Log in with itch.io to leave a comment.
Will more Community Copies be added?
Hi! Community Copies are added when someone purchases a copy. When they come in they go very quickly. I'd suggest sharing the game on social media and someone might add a Community Copy. Thanks for your interest!
New Community Copies have been added! Get one quick!
I got it! Thanks so much for telling me.